import

 

numpy

 

as

 

np




import

 

pandas

 

as

 

pd




from

 

scipy

 

import

 

stats




from

 

matplotlib

 

import

 

pyplot

 

as

 

plt




import

 

matplotlib.colors

 

as

 

mclr



Why a change could be indicated
The decision tree is a simple form of decision model. But there are also limitions of the decision tree evident:
a formal aspect is that the tree format becomes rapidly unwiedly when a combination of several options have to be mapped
with regard to content the elapse of time is not explicit in decision trees. Many chronic diseases such as diabetes, ischaemic heart disease or some forms of cancer have a recuring-remitting pattern over a period of many years. If a longer time horizon has to be adopted, several features may become necessary to be modelled:

continuing risk of recurrence
competing risk of death as the cohort ages
other clinical developments
The Markov model is an approach to handel added modelling options. The key structure of a markov model is:
it is structured around disease states
it is driven by a set of possible transitions between the disease states
it can be run over a series of time periods which gives an insight over the temporal evolution of the disease states
costs may be included in parallel
the modelled transistions probabilities may change over time too, so that changing conditions may be included
We give in the follwing a basic example of a Markov model that illustrates the temporal evolution of a communicable disease in a population.
$$ \begin{equation} \begin{array}{rcl} \textrm{Markov matrix} \; \mathbf{M} &=& \left[\begin{matrix}0.721 & 0.202 & 0.067 & 0.010 \\ 0.000 & 0.581 & 0.407 & 0.012 \\ 0.000 & 0.000 & 0.750 & 0.250 \\ 0.000 & 0.000 & 0.000 & 1.000 \end{matrix}\right] \\ \textrm{Start vector} \;\; \mathbf{p}_0 &=& \left[\begin{matrix}1 \\ 0 \\0 \\0\end{matrix}\right]\\ Repeat:\\ \textrm{Time step} \;\; \mathbf{p}_1 &=& \mathbf{M}^T \cdot \mathbf{p}_0 \\ \textrm{Iteration} \;\; \mathbf{p}_0 &:=& \mathbf{p}_1 \end{array} \end{equation} $$
Set up the Markov system
M_states

 

=

 

np

.

array

([

'A (healthy)'

,

 

'B (infected)'

,

 

'C (ill)'

,

 

'D (dead)'

])




MM

 

=

 

np

.

array

([[

0.721

,

  

0.202

,

  

0.067

,

  

0.010

],


               

[

0.000

,

  

0.581

,

  

0.407

,

  

0.012

],


               

[

0.000

,

  

0.000

,

  

0.750

,

  

0.250

],

  
               

[

0.000

,

  

0.000

,

  

0.000

,

  

1.000

]

 

])




dmm

 

=

 

pd

.

DataFrame

(

MM

,

 

columns

=

M_states

,

 

index

=

M_states

);

 

dmm



| | A (healthy) | B (infected) | C (ill) | D (dead) |
| --- | --- | --- | --- | --- |
| A (healthy) | 0.721 | 0.202 | 0.067 | 0.010 |
| B (infected) | 0.000 | 0.581 | 0.407 | 0.012 |
| C (ill) | 0.000 | 0.000 | 0.750 | 0.250 |
| D (dead) | 0.000 | 0.000 | 0.000 | 1.000 |
Run the Markov simulation
We run the simulation with a population of 1000 members. Note that simulation part has 7 lines of code only:
nRuns

 

=

 

21




m_result

 

=

 

np

.

zeros

((

nRuns

,

len

(

M_states

)))




v0

 

=

 

np

.

array

([

1

,

 

0

,

 

0

,

 

0

])

*

1000




for

 

ir

 

in

 

range

(

nRuns

):


    

m_result

[

ir

,:]

 

=

 

v0


    

v0

 

=

 

np

.

dot

(

MM

.

T

,

v0

)

 


dmr

 

=

 

pd

.

DataFrame

(

np

.

rint

(

m_result

)

.

astype

(

int

),

 

columns

=

M_states

)



Plot the result
plot_gr02

(

dmr

,

'time'

,

'# of people'

,

'Markov simulation of a communicable disease'

);

 

dmr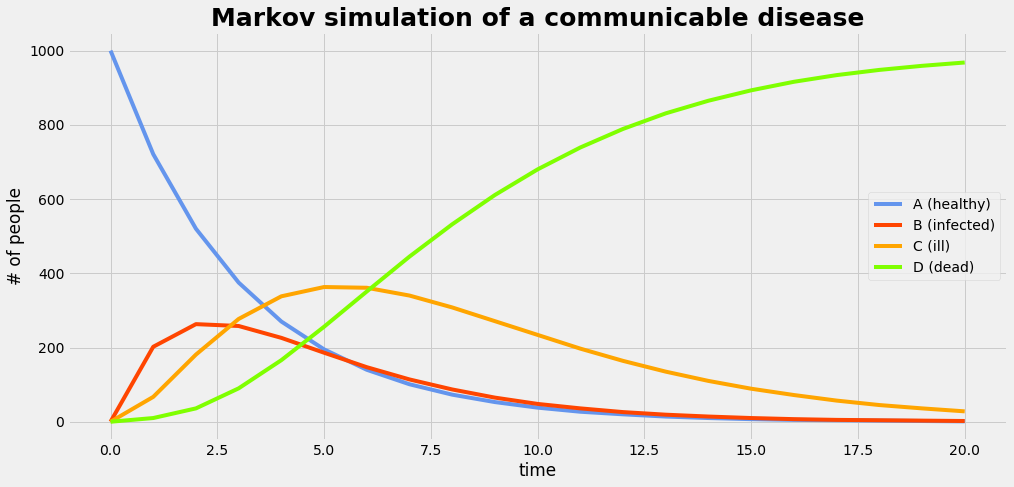 | | A (healthy) | B (infected) | C (ill) | D (dead) |
| --- | --- | --- | --- | --- |
| 0 | 1000 | 0 | 0 | 0 |
| 1 | 721 | 202 | 67 | 10 |
| 2 | 520 | 263 | 181 | 36 |
| 3 | 375 | 258 | 277 | 90 |
| 4 | 270 | 226 | 338 | 166 |
| 5 | 195 | 186 | 363 | 256 |
| 6 | 140 | 147 | 361 | 351 |
| 7 | 101 | 114 | 340 | 445 |
| 8 | 73 | 87 | 308 | 532 |
| 9 | 53 | 65 | 271 | 611 |
| 10 | 38 | 48 | 234 | 680 |
| 11 | 27 | 36 | 197 | 739 |
| 12 | 20 | 26 | 164 | 789 |
| 13 | 14 | 19 | 135 | 831 |
| 14 | 10 | 14 | 110 | 865 |
| 15 | 7 | 10 | 89 | 893 |
| 16 | 5 | 7 | 72 | 916 |
| 17 | 4 | 5 | 57 | 934 |
| 18 | 3 | 4 | 45 | 948 |
| 19 | 2 | 3 | 36 | 959 |
| 20 | 1 | 2 | 28 | 968 |
import

 

graphviz

 

as

 

gv




def

 

plotMarkovModel

():


    

d1

 

=

 

gv

.

Digraph

(

format

=

'png'

,

engine

=

'dot'

)


    

c

 

=

 

[

'cornflowerblue'

,

'orangered'

,

'orange'

,

'chartreuse'

]


    

d1

.

node

(

'A'

,

'A (healthy)'

,

 

style

=

'filled'

,

 

color

=

c

[

0

])


    

d1

.

node

(

'B'

,

'B (infected)'

,

style

=

'filled'

,

 

color

=

c

[

1

])


    

d1

.

node

(

'C'

,

'C (ill)'

,

     

style

=

'filled'

,

 

color

=

c

[

2

])


    

d1

.

node

(

'D'

,

'D (dead)'

,

    

style

=

'filled'

,

 

color

=

c

[

3

])


    

d1

.

edge

(

'A'

,

'A'

,

label

=

'0.721'

);

 

d1

.

edge

(

'A'

,

'B'

,

label

=

'0.202'

);

 

d1

.

edge

(

'A'

,

'C'

,

label

=

'0.067'

);

 

d1

.

edge

(

'A'

,

'D'

,

label

=

'0.010'

)


    

d1

.

edge

(

'B'

,

'B'

,

label

=

'0.581'

);

                                 

d1

.

edge

(

'B'

,

'C'

,

label

=

'0.407'

);

 

d1

.

edge

(

'B'

,

'D'

,

label

=

'0.012'

)


    

d1

.

edge

(

'C'

,

'C'

,

label

=

'0.750'

);

                                                                 

d1

.

edge

(

'C'

,

'D'

,

label

=

'0.250'

)


    

d1

.

edge

(

'D'

,

'D'

,

label

=

'1.000'

);


    

return

 

d1




d1

 

=

 

plotMarkovModel

()




d1

.

render

(

'img/mamo1'

,

 

view

=

True

)





def

 

plot_gr02

(

DF

,

xLabel

,

yLabel

,

grTitel

):


    

with

 

plt

.

style

.

context

(

'fivethirtyeight'

):

 
         

fig

 

=

 

plt

.

figure

(

figsize

=

(

15

,

7

))

 

;


         

ax1

 

=

 

fig

.

add_subplot

(

111

);


         

#DF.plot(ax = plt.gca())


         

colors

 

=

 

[

'cornflowerblue'

,

'orangered'

,

'orange'

,

'chartreuse'

]


         

DF

.

plot

(

ax

 

=

 

ax1

,

 

style

=

'-'

,

 

color

=

colors

)


         

plt

.

xlabel

(

xLabel

);

  

plt

.

ylabel

(

yLabel

);


         

plt

.

title

(

grTitel

,

 

fontsize

=

25

,

 

fontweight

=

'bold'

);


         

plt

.

show

()